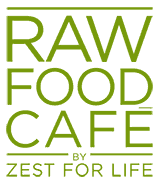 Healthy & delicious RAW food
Look here at our menu
---
SMOOTHIES
Prices: Small (250 ml) € 5.75 Medium (330 ml) € 7.25 Large (500 ml) € 10.25
Green Goddess
Spinach, spirulina, banana, pineapple, fresh coconut water, coconut meat from young coconut.
Berry Blaze
Yuuuuumm, full or red fruit, touch or cinnamon & coconut meat.
Chocoholic
Banana, raw cocoa, raw cocoa butter, date. The best you can get!
Protein Power
Go for great health! Banana, beepollen, mac, lucuma, goji berries, ember pollen, maca, lucuma, goji berries and hemp hearts.
---
JUICES
For Summer, we have two options for our Juice of the Day; a "green" juice and a fresh fruity juice.
Prices: Small (250 ml) € 5 Medium (330 ml) € 6 Large (500 ml) € 9
---
FOOD MENU
Acai Bowl 9,50 € – A thick and frosty berrylicious smoothie with acai berry and a kiss of cocoa, topped with our home-made granola, fresh fruit, cocoa nibs, chia seeds, hemp hearts, & love.
Smoothie Bowl 9,50 € – Chef's weekly smoothy choice served in a bowl topped with fresh fruits, raspberry drizzle, cocoa nibs, chia seeds, and hemp hearts.
Crackers & Dip 6,75 € – Our home-made, gluten-free, raw crackers with a side of our dips.
Zest Soup 8 € – Thick, creamy, seasonal soup of the week, served with a homemade cracker.
Zest Wrap 14 € – Homemade wrap made or veggies & magic, stuffed with romaine lettuce, zucchini noodles, tomato, red bell pepper, red cabbage, avocado, rawmezan & fresh basil. Choose between cashew sour cream sauce or BBQ.
Zest Tacos 16,75 € – Homemade tortillas stuffed with taco "meat", avocado, pico de gallo, rawmezan & garlic aioli, topped with fresh cilantro.
Rainbow Pad Thai 15,75 € – Courgette & sweet potato noodles, julienned red cabbage & shaved carrot dressed into delicious green pad Thai sauce, topped with red bell pepper, spicy nuts, goji berries, beetroot sprouts, fresh mint & basil.
Zest Pasta 14 € – Zucchini noodles served on a bed of salad, topped with our weekly sauce.
All our food is RAW, free or gluten, sugar and animal products, but full of love.
---
Our cakes are often changing, but our favorites that we almost always have are Lemon Cheescake, Walnut or Almond Chocolate Fudge, Chocolate Cake, and Very Berry Cake.
We accept no cash. Only MasterCard, Visa card and pin.
For reservations please give us a call on 020 778 74 65.
Menu raw food café_en